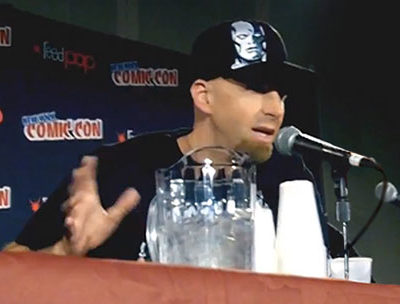 JOSH BOOK
ANIMATION DIRECTOR / ART DIRECTOR
Josh Book creates art, animation, and leads creative teams in all aspects of the entertainment industry, including animation, TV, films, video games, and commercials.
He's held major creative roles on projects for the biggest entertainment brands in the world including Marvel, Disney, DreamWorks, Nickelodeon, and Electronic Arts. He also loves helping the next generation of artists and animators, having taught at Animation Mentor, co-founding Nickelodeon's CG Apprentice program, and contributing to several books on animation and 3D computer graphics.
Currently, Josh Book is the Creative Director of Licensing at Roblox, and works on his side hustle as Co-Founder of Mighty Yeti Studios, creating graphic novels and animation.
DIRECTOR
MARVEL HEROES CINEMATICS
I directed over one hour of game cinematics using a variety of animation styles including 3D CG, 2D animation, and motion comics for the Marvel Heroes MMO.
ART DIRECTOR
MARVEL HEROES
I lead a team of over 30 artists and animators to bring the characters of the Marvel Universe to life in the "Marvel Heroes" MMO.
CREATIVE DIRECTOR
ANIMATED TV SERIES
I helped lead DreamWorks' "Penguins of Madagascar", and "Bubble Guppies" for Nickelodeon, and Sheriff Oki's Wild West for Disney Jr.
More info coming
TV SERIES
The Penguins of Madagascar
(CG Creative Director,  Director)
Tak and the Power of Juju
(Animation Director)
Bubble Guppies
(CG Supervisor)
Disney's Sheriff Callie's Wild West
(CG Supervisor, Pilot)
Fanboy and Chum Chum
(CG Creative Director)
Tripping the Rift
(Animator)
The Andy Milonakis Show
(VFX Supervisor, Pilot)
Jimmy Kimmel Live
(Animator / Artist)
GAMES
Marvel Heroes
(Art Director)
Deer Hunter VR
(Art Director)
Shardbound
(Animator)
Godfather 2
(Animator)
Shrek 2
(Cinematics Animator)
Shark Tale
(Cinematics Animator)
Pitfall: The Lost Expedition
(Cinematics Animator)
PGA TOUR Pro
(Production Designer)
FILM VFX
Ghost In The Shell
(Animator)
Transformers: The Last Knight
(Animator)
Fantastic Four
(Animator)
Elektra
(FX Animator)
XXX2: State of the Union
(Pre-Vis / FX Animator)
Galaxy Quest
(Animator)
Racing Stripes
(Pre-Vis Animator)
Nutty Professor 2
(Animator)
COMMERCIALS / SHORT FORM
La Noria
(Consultant)
Batman Black and White Trailer
(Animator)
Lamisil "Beach"
(CG Supervisor)
Coffee-Mate "Don't Fight"
(Animator)
Virgin "Wi-Fi"
(Animator)
Esurance "Star Trek"
(Animator)
Toyota "Tent Event"
(Animator)
AOL Super Buddies
(Animator)
I directed over an hour of motion comics cinematics for "Marvel Heroes". The game story was penned by Brian Michael Bendis, and starting with Brian's scr...