MARVEL HEROES:
ANIMATION
With my background in animation, you know I had to be heavily involved in this part of the production. 🙂 At the character planning meetings I'd help plan out moves and attacks, idles, fidgets, etc. In the daily animation reviews I'd give notes, trying not to pull anything while demonstrating superheroic moves. And I also successfully pitched the famous "Fastball Special" move, upping the ante and having Nightcrawler BAMF in Wolverine, who Colossus then throws. I had a hard time getting everyone on board, until they saw this render I posed in Maya. Then there was no turning back!

VFX
I did some VFX design (such as these) in the early visual development stages of the game production, but once we really got moving my role was directing up front in character planning meetings, and then giving verbal notes at daily rounds. With an IP as loved as Marvel, we had to get the flavor or spirit of VFX we'd seen drawn in the comics (and film and animation) working in our game and really feeling like each set was unique to each character and true to the source material.

CINEMATICS
Our first teaser trailer for the game was an in-game rendered cinematic, featuring Dr. Doom standing at the end of his castle hallway holding the cosmic cube. Here's a mood board I created for it, with a frame of it as well.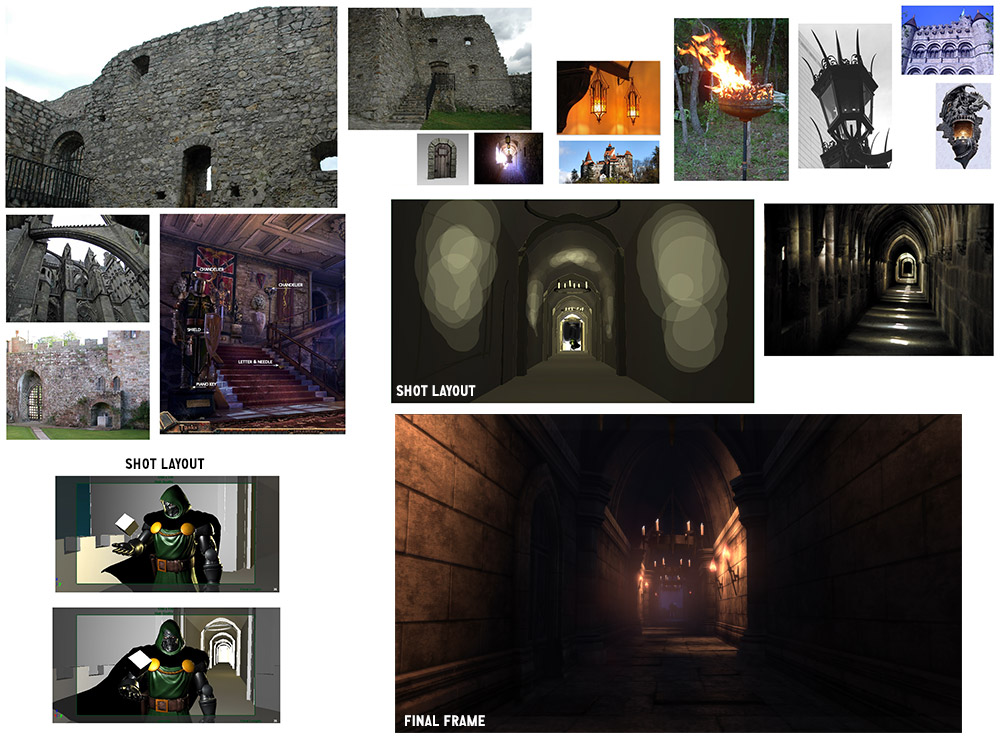 Titmouse did an amazing job on the 2D animation for the game opening cinematic. Juno Lee did the character designs and most of the key shot designs. I gave notes on these mostly to keep the look consistent with how the characters were depicted in-game, and sometimes little adjustments to the shots. I love the work Juno and crew did.