MARVEL HEROES ART DIRECTION:
ENVIRONMENTS
One of the aspects to the game that made the environment creation very tricky was the randomized levels. As a result, small to large set pieces were designed and created. We'd create images such as this one which we called "Disneyland maps" as a way to look at the features of a level and call out color progression through a level and the set pieces to be built. Art by Nino Navarra.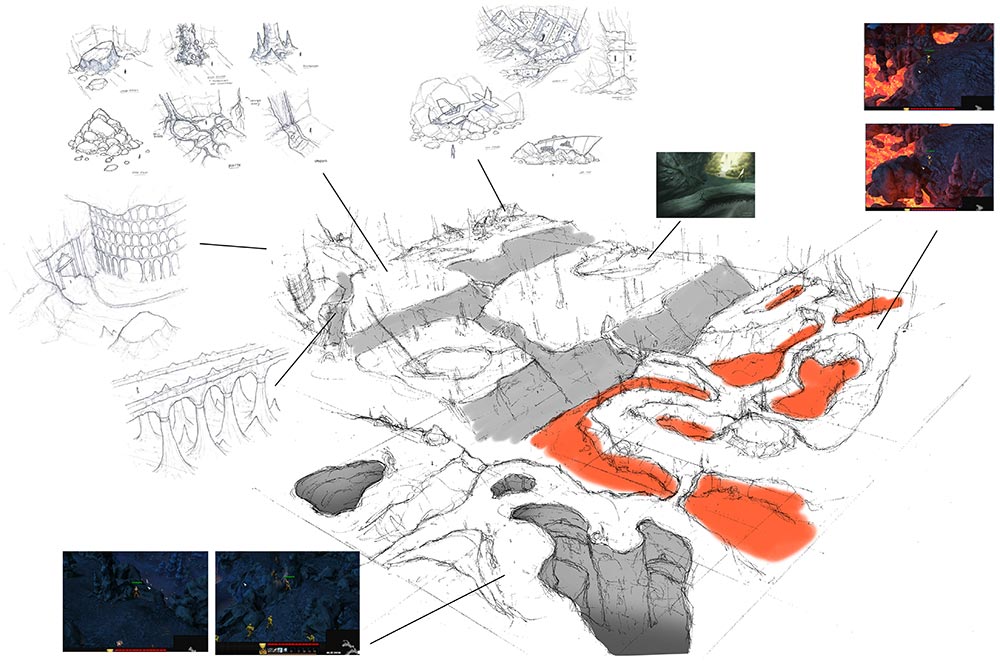 Some of my environment notes. Most of my notes were given in review sessions verbally, which is possible when you're lucky enough to have the entire art team in-house on the project!

(Left to right): Baxter building design sketch by me and ref images for deco look surfacing; Possible occlusion solutions mockup; How to fill New York with a wide range of different looking cars with the same underlying model geometry.

It was my job to make sure we had continuity between the game environment/world and how it was depicted in the motion comics storytelling. Quick drawovers to note changes to have everything align.

Though we had randomized environments, we had specific set pieces that set up story "memorable moments" such as this, where Eddie Brock uses the distraction in the Raft to break into a lab, unleash the Venom symbiote, and escape. I storyboarded it out and it was turned into an in-game cinematic triggered when you entered the cell.

NEXT UP: ANIMATION / VFX / CINEMATICS